Thanks for all the suppose and kind comments on the blogging frequency post (and the watermelon salad post! Nothing like a summer salad). I really appreciate everyone who reads my words and wish I could send you all a card in appreciation. I'd even include a Starbucks gift card
When I started seriously blogging, I had only lived in the St. Louis area for a few months and didn't know a soul. This blog gave me something to do and a reason to push myself up off the couch and either into the kitchen or a local restaurant.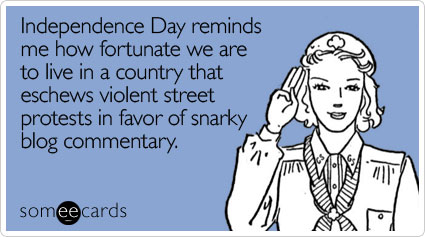 Within the past couple months, I realized how far I've come since that time. I've made great friends, volunteer regularly, and work at a job that's pushing my career to the limit.  I'm busy – that's a good thing for my real life but not for the virtual one.
Because these real life activities are all things I've willingly picked up and want to continue with, the virtual life might have to give a bit. In the last six months, I blogged about six days a week.
I'm cutting way back…to 3-4 times a week.
Did anyone faint? I hope someone caught you!
In all seriousness, the world will go on and this will just give you some time to miss me
And if I happen to blog six days one week…well, lucky you!
Moving on, let's talk about peaches (again).
There were two peach recipes I was dying to make, and I'm featuring both here. Must be peach week here at ELT!
The first recipe, Peach Tilapia Packets, is from How Sweet It Is and I modified it when I realized it called for marinating the tilapia. I should probably read recipes before I attempt them, eh?
Anyway, I cut two pieces of foil, one for each piece of fish. I seasoned the fish with salt and pepper, then laid them on the foil on top of a bunch of red onion slices. I then added sliced peaches on top and closed the foil to make a packet.
Peach packets!
Grill for 10-15 minutes until the fish is flaky.
I mixed together a really quick peach salsa to go on top – chopped peaches, tomatoes, red onion, and cilantro. That's it!
Sidenote: see that corn cob? Wanna know how Matt butters his corn cobs? He takes the butt end of a piece of bread and butters it, the rubs it on the cob!
Genius!
I just prefer to cut mine off!
Moving on – dinner was good but we needed something just as good for dessert, so guess what we had…more peaches!
(duh)
This recipe came from Eat, Live, Run – Roasted Peaches with Goat Cheese and Honey -  we could have grilled them but I didn't get the timing right, so we made the in the toaster oven!
You want one peach half per person. Slice all the way around the peach, then twist to break apart. One half will contain the pit, one won't.  Try like hell to get the pit out without tearing apart the peach. Once you have the desired number of halves, hollow out a bit of the middle.
 
Roast the peaches at 425 degrees for about 20 minutes. When they're done, add about a tablespoon of goat cheese in the center, then drizzle with honey. ELR suggests adding roasted hazelnuts on top as well, but I skipped those.
This was yummy! To be honest, I think I would have preferred a milder cheese (Ricotta, maybe? Mascarpone?) but the tang of the goat cheese added a nice contrast to all the sweet.
Also, honey and peach is my new favorite combo!
Such a unique, summertime dessert! I dare you to try it.
Thanks again for reading – you definitely need to eat some peaches this weekend!
Question: Other than peaches, what's your favorite summertime snack? I'm a little peached out!
This week's eats: Blogging Frequency or Getting Over Myself, 7 Links and Peach Shortcake, Steak Romaine Sweet Corn Weekend, Watermelon and Feta Salad