Tuesday and I don't get along. I've posted about it many times before – it's not even a love/hate relationship, it's completely one-sided (and it's not love). And here is where I start rambling…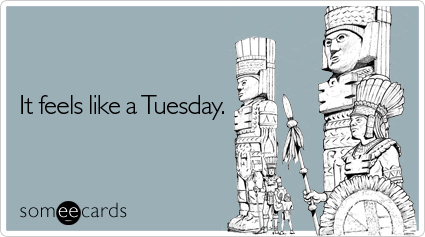 (photo source) I don't talk about my job a lot on here, but work has been typical.  I work with kids with autism and love it, but I feel like every group of kids is becoming more and more challenging (or is it their parents?). The busy days often leave me with only enough energy to crawl into bed (or a box of sesame chicken). 
(Recipe for this homemade sesame chicken to come!)
Luckily, those days aren't every day, and the kids (and yes, their parents) are rewarding in themselves.
To add fuel to the fire, I've started a new school program. I know, I'm insane, but I think it's worth it. I'll be working towards becoming a BCBA (Board Certified Behavior Analyst), which means a lot of things but mainly that I can bill for therapies and write programming for kids going through behavior therapy (and did I mention, make more money?). New insurance laws have made behavior therapy, specifically ABA (Applied Behavior Analysis) therapy, much more accessible to people with group insurance plans and therefore, a BCBA is much more in demand. One year of schooling (online!) and a few (well, 1,500) supervision hours seems worth it to me.
So there's that!
I'm a busy girl. Look for a post coming in the near future about autism, and it might even be food-related (you know me…).
For this particular Tuesday though, I've decided to do something different. In order to take the focus off of me for a bit, I'd like you to post about yourselves! I got this idea from These Happy Miles and think it's a great one.
In the comments of this post, introduce yourself, tell me what you're all about, and if you have one, introduce your blog!
I can't wait to check out your introductions!
Recent Eats: One Pot Chicken with Rice, Rice Pilaf with Spicy Sausage, Martha's Sugar Cookies, Peanut Maple Nuggets